When it comes to the famous money-bin blueprints, Don always mentions his friend Dan Shane. Dan is also an active member of Disney Comics Mailing List (DCML). I asked Dan to tell us a little about himself and about his friendship with Rosa. How did they meet? What do they do together? How those money-bin blueprints came to be? Dan, who is a nice guy indeed, agreed to write something. This turned out to be in my opinion a beautiful tale about comics and friendship... Thank you, Dan!
I don't recall exactly how long I've known Don Rosa, but it is in the neighborhood of 18 years ago that we met at a comics booth at the Louisville Flea Market held several times each year the Kentucky Fair and Exposition Center. He noticed that my friend, Ron Montgomery, and I were searching for old DELL and GOLD KEY comics, including movie adaptations and Disney titles. I recall that he found it interesting that we expressed interest in those comics over the standard Marvel superheroes that everyone else at the time was so keen on. Despite the fact that he had no idea what sort of fellows we might be, he invited us to visit his house not long after, where we met his wife Ann and his 3 basset hounds -- Cleo (who hated us), Basil (who loved us), and Hillary (who was scared of us). I think it has always been in Don's character to accept that people are good until they prove otherwise, so he had no problem in accepting essential strangers into his home based on his first impression of us.
Ron and I already were familiar with Don's work in the ROCKET'S BLAST COMIC COLLECTOR fanzine, and we were happy to meet the man in person and have the opportunity to get to know him better. The two of us had shared an interest in all sorts of movies and comics since childhood (even creating our own MAD magazine rip-off called TRASH in the 6th grade), and now we had finally found a third person with similar tastes. We were never big fans of sporting events, and Don did not seem to be either, so getting together on occasion meant talking about or looking at the form of entertainment we liked best. Ron and I had collected motion picture soundtrack records for years, sometimes just creating audiotapes right off the television. Guess what? So had Don!
We didn't associate with Don on a regular basis for a couple of years, however. I was busy raising 3 young boys, and my wife and I would soon have a daughter as well. Ron wasn't yet married, but he usually went where I went, which was nowhere while my kids were keeping me busy.
My wife, Kim, and I bumped into Don and Ann one day at a local eatery and found they were moving into a new (to them) house in a semi rural area. He promised once they got settled to have us over, and so he did. Visits would become more regular after that. We would watch favorite movies on laserdisc, walk around through the trees and flowers on his beautiful property, and talk comics. When Don got the opportunity to create his first UNCLE SCROOGE story, SON OF THE SUN, we watched the process with great delight. It was a real treat to think our relatively new friend might get to follow in the footsteps of someone all three of us had admired, Carl Barks.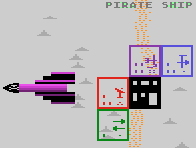 Don and I had another common interest that was not shared by too many people at the time -- home computers. He had an Atari 8-bit computer that he used for word processing and playing games, and I would help him get new programs for his system or show him how to better use the machine. We especially enjoyed playing M.U.L.E. together with Ann and Kim. Don was getting to do more stories, and he would always let Ron and I judge his work before sending it to Gladstone (and later Egmont). He always encouraged us to be as critical as we could, and early on it was not hard to find what we believed were flaws in his drafting style. He accepted our criticism as if we were the most qualified people on the planet (which we most definitely were not), and incorporated our suggestions where they seemed to make sense.
My family's ties to Don and Ann grew stronger as three of my children became Ann's students at Thomas Jefferson Middle School, where she taught social studies. While Don and Ann never had kids of their own, they always welcomed mine to their beautiful house (a third one now, constructed of rough-hewn logs). My sons and daughter all grew up surrounded by the Disney Ducks -- in comic form and lots of toys and figures all over Don's studio (and eventually our own house). In the US, such exposure to the greatest comic characters ever created is no longer common, but I'm glad my kids have had it to help offset the constant barrage of "grim vigilante" superheroes that are the usual comics fare in America today.
As Don's fame grew in Europe, he would get many invitations to visit countries across the Atlantic, places I had only seen in movies, National Geographics, or my beloved View-Master reels (which I still avidly collect). He would return with photos or videotapes where we would be amazed at the long lines of fans hoping for a sketch or an autograph. Yet we could walk around with the same man all over Louisville in complete anonymity.
Our relationship has changed little in the years since. I still help Don out with computer problems on occasion, and we'll discuss the latest movies and I would continue to look at Don's work in progress. I have seldom felt the need to suggest any changes in Don's work for many years now, though he still lets me review his scripts and art before I send them electronically to the publishers. Most of my communication with Don lately has been via email, even though we live so close. I am increasingly more involved in my responsibilities as one of Jehovah's Witnesses, so our in-person visits are not as frequent as in times past.
Probably our closest association was during the period we worked together on the creation of the MONEY BIN blueprints. Don came up with the idea of defining on paper the actual floor plan and layout of the Bin to go along with the story of the Beagle Boys sneaking all over and through the building, and he called on my expertise as a trained architectural designer to produce the plans using Computer Aided Design software (CAD). This would allow precise scaling for greater realism, and we could provide the plans with different facades and translated text for various countries. And true to form, Don made it real team project by allowing me to write some of the gags for the blueprints and relying on my acumen to keep the drawing as close to technically "accurate" as possible. I got to experience first-hand the pleasure Don feels at seeing my efforts in print in a Disney Duck comic. If Disney comics resume publication in the United States, I hope to finally have our Money Bin blueprints in print form in my own language.
I will probably never make a contribution on this scale to Disney comics again, and I certainly never would have had such an opportunity if I had not known Don. And though Don and I come from very different backgrounds (different kinds of family relationships, different religious views), we continue to share many similar moral and philosophical views that keep our friendship strong and constant. There is much more to Don than just Ducks, and the characters have not been nearly as large a part of my own life. But the Ducks did help bring us together, and I've always been glad of that.